title:AM
year:1996
material:VHS,video player,video projector,
                 :felt screen
time:30minutes and endless loop
view:installation at gallery LE DECO,Tokyo
photo:Mikio KUROKAWA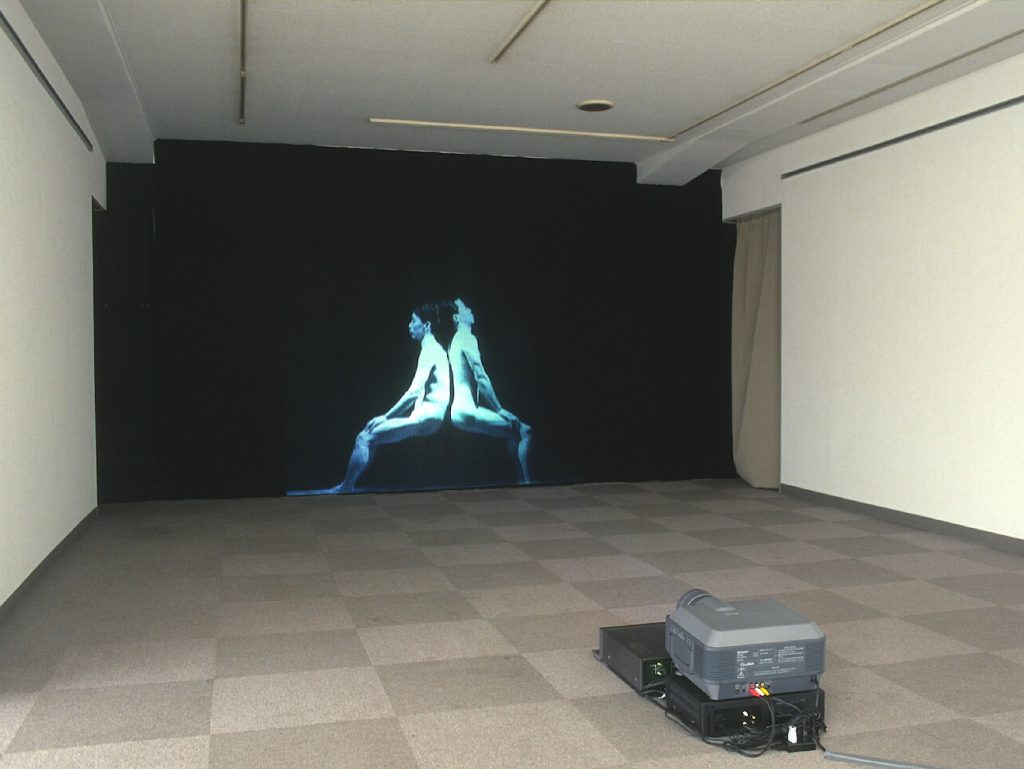 終わりのない葛藤を続けることを運命づけられた守章という装置は見る者を
そこに取り込む。‬‪彼らの作品は、双子であるお互いの存在を媒介にした彼らの思考の現場であり、 かつそれを体現する装置である。それは、極私的な必然性から出発しているが「私」を成立させるその境界を、互いの存在をよろめきながらも支え合う他者との関係ということに還元することで普遍的な主題に
見えてくる。 
‬‪
岡村恵子「『低温火傷』の時代に」‬MOT‪アニュアル‬2000 低温火傷‪ 
[展覧会カタログ]東京都現代美術館, 2000年, p.12.



Akira MORI appears in the form of a mechanical device that is fated to go on  struggling endlessly with itself.  In this work, the viewer is drawn into this process.  Akira MORI's work is a site for  thinking and a device that gives form to their ideas, mediated by their existence as twins.  It starts from quite personal needs but arrives at universal concerns by reducing the boundaries that form the "I" into a relationship of others who support each other while reeling and wobbling in response to each others existence.  

Keiko OKAMURA「In The Age of Cold Burn」MOT Annual 2000
[Exhibition catalog]Museum of Contemporary Art, Tokyo (2000: 90).